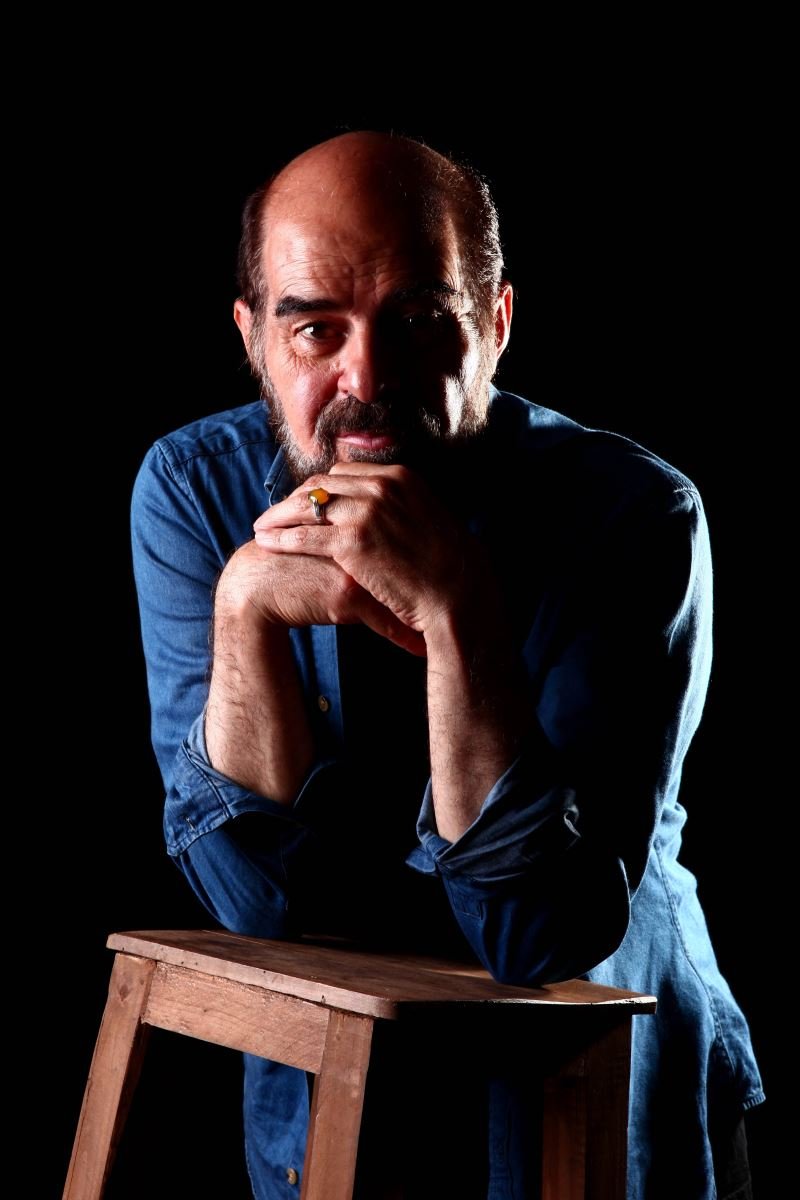 Habibollah Sadeghi was born in Tehran in 1957. He completed the primary school 6-year program at 21 Azar Tehran Now and studied at Mohammad Taher Bahadori high school up to the 9th grade. He successfully passed the admission exam administered by the School of Fine Arts in 1973 and received the diploma of fine arts with distinction.
          At the School of Fine Arts, he was trained under such teachers as Asghar Mohammadi, Mr. Asadollahzadeh, Mehdi Hosseini, Mahmoud Farshchian, Majid Mehrgan, Aidin Aghdashloo, and Bahram Alivand.
          Habibollah Sadeghi passed the admission exam of the College of Fine Arts and ranked 6 place in 1976 and studied under Mahmoud Javadipour, Parviz Tanavoli, Mohammad Ali Heydarian, Honiball Al-Khas, Morteza Mokhayer, Mahmoud Farshchian, Javad Hamidi, Marco Gregorian, and Sima Kooban.
          With the victory of the Islamic Revolution, he together with some of his friends joined the Social and Islamic Movement of Iran and recorded pictures of the motion picture "Laila-tul-Qadr", directed by Mohammad Ali Najafi and Seyed Mohammad Beheshti, for 9 successive month, i.e. the whole days of the Iranians' resistance and supporting the constitution movement until the triumph of the Revolution, amounting to 400 painted pictures which turned out as a picture report.
          In France, it was the first motion picture made of the Iranians' fight and displayed as design and painting.
          On February 11, he organized a large exhibition of the Iranians' memories of the combat against dictatorship in the library of Hosseinieh Ershad along with some of his classmates at the College of Fine Arts, and this exhibition ran in different cities of Iran for 10 months following the victory of the Revolution.
          Upon closure of the exhibition, they decided to form an art group, which was attended by such poets as Tahereh Saffarzadeh, Mousavi Garmaroudi, Mohammadali Najafi and Seyed Mohammad Beheshti and some painters.
          Afterwards, this cultural society and Islamic movement changed into the Art Center of Islamic Thought.
During his studies in 1984, as a junior, he served as a teaching assistant of such lecturers as Javad Hamidi and Honiball Al-Khas at the College of Fine Arts, and his attempts and teachings led to training of multiple artists some of whom are highly renowned and successful in Iranian visual arts.
          Some of his works have been printed in the book "10 Years with Painters of the Islamic Revolution". In 1979, drawing upon his experience in journalism, culture and illustration, he designed and illustrated 26 story collections and 76 cover designs and then was engaged in design and drawing caricatures in various newspapers such as Jomhoori-e-Eslami and Sobh-e-Azadegan and Bonyad-e-Andisheh Eslami and international journals in English, Urdu, French ad Arabic.
          In 1979, he was employed as a designer and caricaturist and illustrator at Ettela'at newspaper and published an article dealing with 8 years of the Sacred Defense on page 16 of the newspaper, and then analyzed and illustratively interpreted international news articles from 1979 to 2015, during which period he worked with two important cultural and art magazines, namely Dabestan and Ahl-e-Ghalam. At the same time, he sought to find visual cultural and national elements and components relying upon different experiences he had gained in painting under such masters as Jalal Soosanabadi, Mahmoud Farshchian and Majid Mehrgan; thereby he could visualize and illustrate various topics in relation to national culture in fantasy form. In the meantime, he was admitted to the M.A. program of Tarbiat Modares University in painting in 1994.
          After had completed his B.A. program, Sadeghi was engaged in designing up to 1981, the year in which he married Fatemeh Kazemi, who was an international law major but had quit this field due to loss of interest and involved herself in studying history, versifying and conducting research in art. They gave birth to a girl in 1982, named Zeinab, and a boy in 1986, called Amirhossein.
          After Sadeghi graduated as a bachelor of arts with distinction, he began to lecture at several other universities as well as the University of Tehran and Sooreh University and then Shahed University.
          Continuing his visual arts studies, due to the deep interest he took in national and Persian art and as a result of numerous experiences he had gained in visual arts, Sadeghi sought to learn more about the nature and essence of national Persian art.
          Due to his endless interest in Persian literature and poetry, especially Rumi, Hafez, Sa'di, and Ferdowsi and free-verse poets such as Nima Yooshij, Ahmad Shamloo, Sohrab Sepehri, etc., and his familiarity with such contemporary poets as Gheysar Aminpoor, Hassan Hosseini, Abduljabbar kakavand, Alireza Ghazveh, Ahmad Azizi, and his deep interest in Nima's verse, he has narrated many works concerning poetry and humanitarian messages found in national culture – the works containing poetic messages. The works "A Dance like This", "I am the Servant to the Moon", "O' Grapes Sellers! Host the City with the Grapes", "The Grass to which All Flowers Take Shelter", "Funeral of Hearts and Rumi's Dance", etc. are among his top paintings which have been purchased by Tehran Museum of Contemporary Arts.
          An outstanding, invaluable work by Sadeghi which is kept at this own treasure is "The Woman's Tanbur", which is a symbol of Persian music, and was on showcased as a sign of Persian music at Daytar Beach Museusm on April 25, 2003.
          In 2003, he was admitted to the doctoral program with the top rank and presented his dissertation entitled Manifestation of the World of Fantasy and Illustration in Persian Art under the supervision of Prof. Habibollah Ayatollahi, with Prof. Tavoosi as the advisor, and thereby received his PhD in art research.
          In 2004, he was appointed director of the contemporary museum and director general of visual arts of the Ministry of Culture and Islamic Guidance, and after four years, he resigned as the director of the contemporary museum and engaged in art research and teachings at university. He also served as the judge at two Fajr Film Poster and Trailer Festivals and designer of covers of children and poetry books.
          Two of his works were turned into murals: one dealing with Hafez in Hafez Tomb in Shiraz, with the other entitled Estrangement in Arajiko Park in Tokyo (Japan).
          He has been designing and painting for about 44 years and studying and conducting research for nearly 33 years, teaching to students and supporting his children.
          His daughter is a painting graduate and has trained in sculpture and calligraphy under such masters as Parviz Tanavoli and Nasrollah Amjadi. His son is majoring in engineering, with his side activities including painting and versification and studying documentary production. His wife has graduated in sculpture from Sooreh University. His wife, son and daughter have been involved in art under his auspices.
          His wife's familiarity with the world of poetry is indebted to familiarity with the family of Nima Yooshij, and her deep interest in the world of painting and caricature and miniature is owed to his marriage to Habibollah Sadeghi and introduction to such intellectuals as Majid Mehrgan and Mahmoud Farshchian. Most of their local and overseas exhibitions have been organized and managed by Sadeghi's wife. They would like their children to learn English, German, and French besides their mother tongue.
          Habibollah Sadeghi describes his wish for his children at the beginning of the New Year: "I hope that this New Year will be full of blessings and health for my fellow citizens and children and wish a peaceful year for the country and all religions and people around the world."
          Habibollah Sadeghi recommends his son and daughter to study art and engage in innovation and creativity and corrects most of his children's etudes and guides them in the realm of art.